Sisters Twix and Sox were adopted together on Sunday, March 12, 2023!
Meet Twix! This gorgeous tortoiseshell was approximately one year old when she entered Kitty Devore Rescue foster care in February 2022.
Twix is a funny girl that enjoys attention on her own terms. She's okay with being picked up, but she's not a fan of being held for an extended period of time. She likes head scratches and pets, but prefers to have your hand pass a sniff test first. She'll roll on the floor and show her belly, then gently inform you that she doesn't want it touched. It doesn't take long for her to start purring and she loves to snuggle under the blankets when it's cold (she'll paw at the covers to let you know that she's requesting a kitty cave).
Twix tends to hang back and observe her more rambunctious foster siblings, but she is still a young, playful girl that enjoys chasing blanket monsters and wands. She frequently "discovers" her tail or back paw and decides that they are acceptable toys. Twix also likes to chat with the humans in the house, even though they don't always understand what she's saying.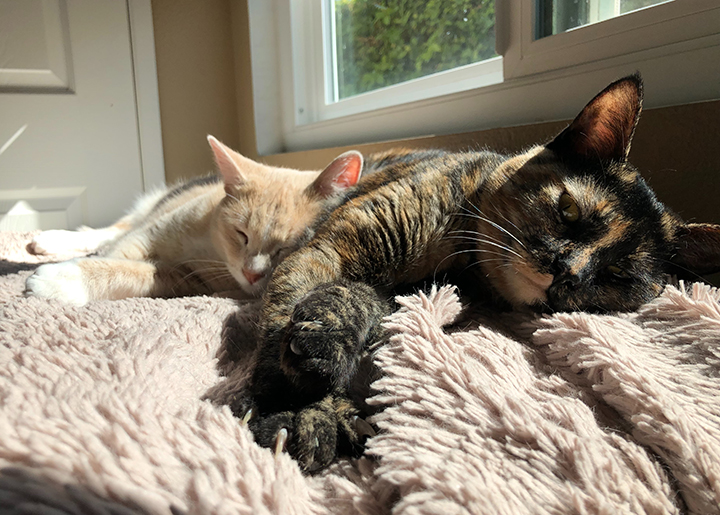 Twix and her sister, Sox, are a bonded pair that need to be adopted together. They do not want to live with a dog, but they get along well with other cats and wouldn't mind older children. They were cautious when they first came to their foster home, but quickly warmed up with a little patience and some pets. They continue to become more cuddly as they get comfortable. Are you looking for two beautiful young kitties with a lot of love to give? Fill out an application for Twix and Sox today!