Tiny Dancer was adopted Tuesday, February 8, 2022!
"Pretty-eyed, pirate smile, you'll marry a music man… Hold me closer, Tiny Dancer…"
This fantastic little tortie will dance her way into your heart! Tiny Dancer isn't a tortoiseshell with a lot of sassy attitude. She's more of a snuggler, a lover, and one of the most affectionate kitties around. Do you want to be held closer? Tiny Dancer is your girl! She'll pirouette her way onto your lap and then flop herself down onto your lap for pets. Hey, we didn't claim she was a graceful dancer!
Tiny Dancer is one of our Reginald Dwight kittens. Four litter mates – Elton John, Rocket Man, Little Jeannie, and the quartet wouldn't be complete without Tiny Dancer! Like her siblings, she's very human-focused. She truly loves her people. And, like her siblings, she loves nothing more than to follow them around, ever curious about what they're up to. She may even try to help. And when it's time for sleep, she's happy to take a bow and call it a night, cuddled up in bed with her most beloved human.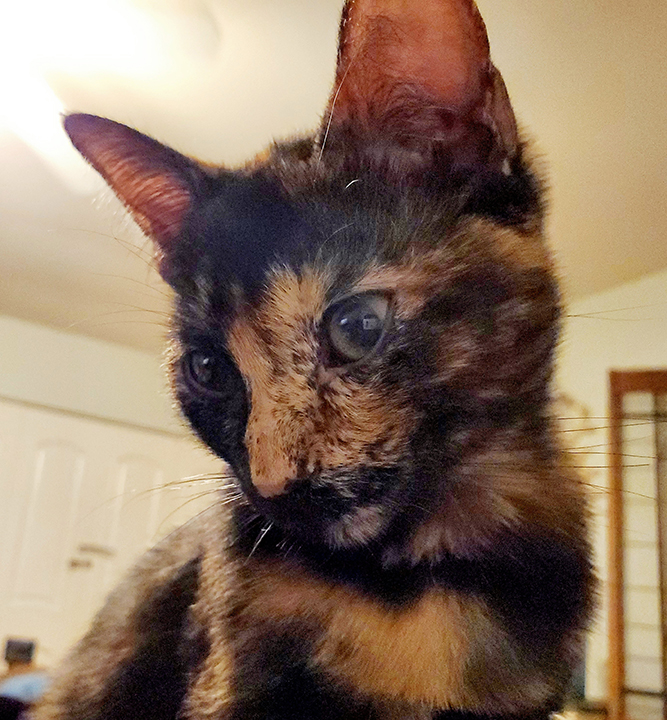 Sure, she loves playing with her toys. Chasing strings around can be a blast, and cat trees are so much fun to climb! If you reward her for her talents with Churus treats, she'll put on quite a performance for you. Actually, Churus treats are a must. She insists on them!
But most of all, Tiny Dancer just wants to be held, loved, and given the space to show off her fancy footwork for an appreciative audience. Maybe that's you? Fill out an adoption application for Tiny Dancer today at www.kittydevorerescue.org!