Adoption Application Status: Frank Leroy currently has 0 approved adoption applicants.
People don't realize San Bernardino promotes a leash law prohibiting any animal (not just dogs!) from wandering unleashed and unaccompanied by an owner on public property. That includes cats! So, all outdoor kitties are subject to entrapment and impoundment. And that's exactly what happened to Frank Leroy and two of his buddies in August of 2023. Trapped by non-cat-friendly property owners, they were all brought to Devore Shelter. Frank Leroy eagerly awaited adoption, but while in shelter care, he contracted a kitty cold, and his time there was cut short. We swooped in to rescue him along with Dina, and both have resided together in the same foster home ever since.
Frank Leroy recovered from his kitty cold once he was safe and well-cared for in our foster care program. At approximately nine months old, at the time of his rescue, he's still a kitten bursting with zoomie kitten energy. Frank Leroy loves to play with kitty toys and sprints around his foster home with the other resident kitties, having the time of his life. He's a hearty eater because he's a growing boy. He's eager to find a forever home of his own where he can be someone's one and only or part of a small pride where he can enjoy the company of other amiable kitties. Good-natured and outgoing, as most ginger kitties are, he's looking forward to a lifetime of enjoyment with a person or family of all ages who will love him and give him the quality care he deserves.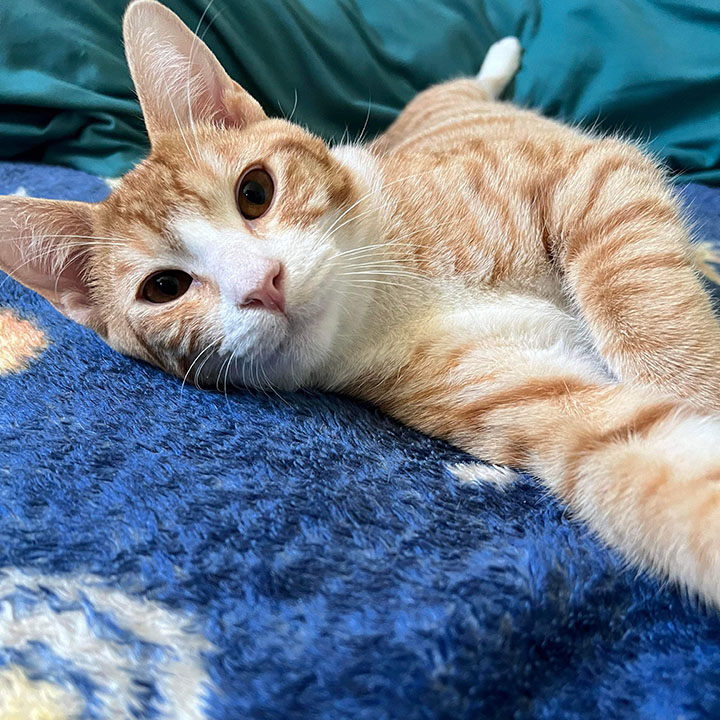 Frank Leroy is adoptable and ready to embrace his new people and make himself comfortable in his new forever home. What are you waiting for? Apply to adopt Frank Leroy today!