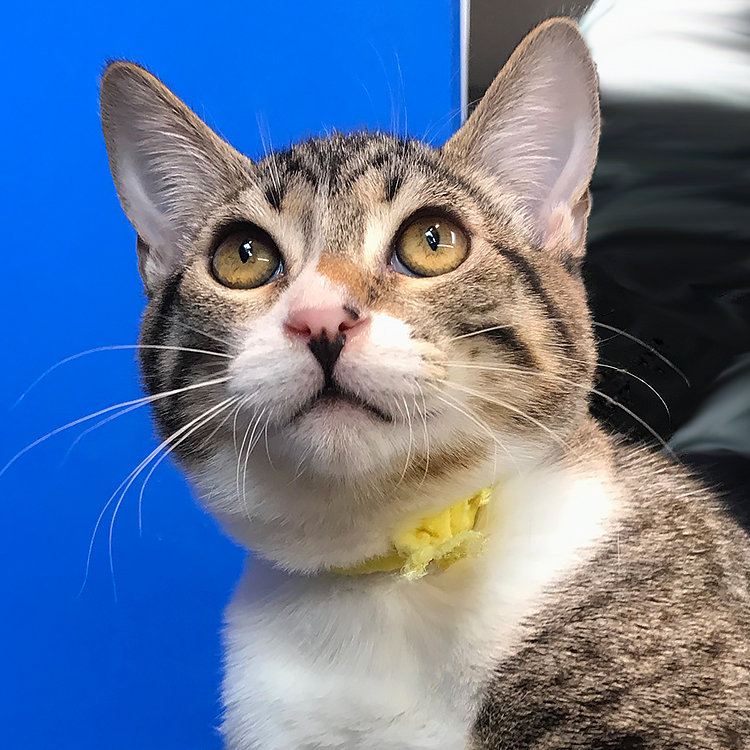 Etta and her siblings, Walter and Lincoln Lee, were all adopted together on October 18, 2021!
After a harrowing wait in the shelter, Etta's mom, Margery, and siblings were rescued on June 10, 2021. She and her siblings – Olyvia, Astridd, Walter, Billy Bell, Jonesy, and Lincoln Lee – had just turned 9 weeks old when the entire family safely exited Devore Shelter in San Bernardino, California. From there, they made their way into KD foster care. Our team members in California temporarily fostered them before traveling to their long-term foster home with one of our very best foster moms in Seattle, Washington.
Are you looking for a wild 'n crazy girl kitty? Then we have the kitty for you! Etta is spicy to the core and the daredevil in the family. She has hyper-developed curiosity and energy, loves to play with everything, and especially enjoys escaping her enclosure and being near-impossible to catch.
Happy Etta is fully vetted and ready for a forever home that can provide a safe and stimulating environment for this super active kitten. She'll do great on her own, but consider adopting her with one of her rough-and-tumble brothers who, unlike mere humans, will be able to keep up with her nonstop zoomies and antics.
All members of this beautiful little family are part of our Seattle, Washington, division, so they are only available to adopters in and around the Seattle area. If you are interested in adopting adorable Etta and/or one of her equally sweet siblings or their mom, Margery, fill out an adoption application today!
See Etta in action here: