Ellen DeGeneres was adopted on Saturday, October 30, 2021!
Many of our foster parents who take feline families in need into their care choose name themes. When Momma Blanca and her five kittens were rescued from Devore Shelter in May of 2021, their foster mom named each kitty after a person she admired and who champions the welfare of animals: Momma Dian Fossey, Steve Irwin, Bindi Irwin, David Attenborough, Jane Goodall, and Ellen DeGeneres.
In addition to her career in television, Ellen DeGeneres is an active animal rights advocate. She's provided a platform for animal rights groups on her daytime TV show. She has encouraged people to adopt a turkey for Thanksgiving rather than eat them. Our Ellen was named in her honor. While she may not dance, she is a gold medal champion at Fetch! Toys are preferred, but if there are none available, that doesn't deter our Ellen. She'll find something fetchable and drop it at your side as if to say, "Let's play!" Your job is to throw the object as far as you can. Her job, to retrieve it and bring it back to you – which she will accomplish deftly, time and time again and as long as you're willing to play her game. When you're done playing, she might not be. She'll parade around the room with her toy, growling with pride at her prey.
Ellen also enjoys sprawling herself languidly on your lap if you're sitting or your chest if you're lying down. She doesn't mind being picked up, carried around, snuggled, and pet. She also expects to sleep in the same bed as her favorite human. Hopefully, you're not a light sleeper because her purr is very loud when Ellen is content.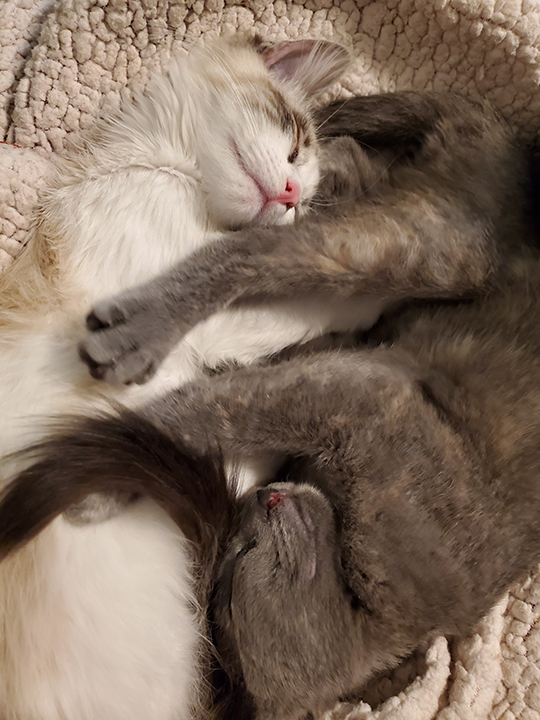 Ellen is a playful bundle of energy and happiness and is looking for a person or family who enjoys a similarly active lifestyle. Does that sound like you? If so, apply to adopt Ellen DeGeneres today!