A citizen trapped Destry when he happened to wander through their property in search of food. Although desperate to escape the confines of the narrow cage, beating his face against the bars that imprisoned him and wounding himself in the process, the citizen offered him no empathy and hauled him to Devore Animal Shelter for impoundment. There, he continued to wait in an even smaller, perhaps more comfortable, confinement for someone to liberate him. With new animals admitted every day, scarcity of space persists in this shelter, and soon, Destry's time was nearly up. It didn't help his cause that he'd contracted a virulent kitty cold while there. Injured and sick, prospective adopters passed him by. But we knew a grand destiny awaited Destry, and in mid-June of 2023, we swooped in to reintroduce him to a broader expanse of love and care.
First, Destry, whom doctors estimated to be about three years old, required urgent medical attention. He spent the following week post-rescue in hospitalized veterinary care. Then, when he'd recovered, a very caring lady picked him up and, along with several other kitties, he traveled along the open highways from California to Seattle, WA, to his new foster home and the beginning of his new life.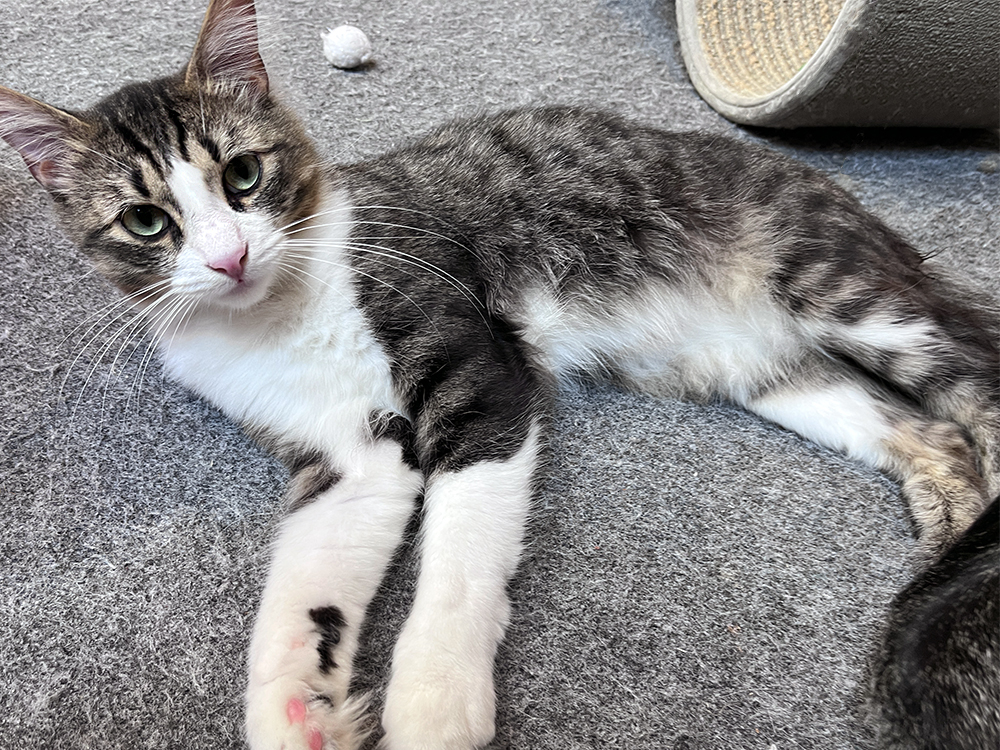 Destry, sweet and gentle by nature, took everything in stride. Once introduced to his new foster home and foster siblings, he developed a new sense of safety and assurance. Despite his ordeals, he came to see they all served a wonderous purpose, delivering him to a world where people cared, loved him, fed him regularly, and provided him with toys, warm blankets, and kindness around every corner.
Now, Destry's just waiting for his new forever people, the person or family destined for him. Might that be you? If so, destiny is calling! Fill out an adoption application to adopt Destry today at www.kittydevorerescue.org!
Destry is one of our Washington state kitties and is only available for adoption to Washington residents.