Zinger was adopted Thursday, August 3, 2023!
Meet Zinger! This gorgeous guy was approximately ten years old when we rescued him and his roommate, Zenna, from Devore Shelter in March 2023. Sadly, their owner was a casualty of the unusual blizzard that hit areas of San Bernardino hard in winter. Both were surrendered to the shelter when no one else offered to take them in. We, however, happily welcomed them into our foster care program. While they are comfortable with one another, their foster family hasn't observed they share a tight and bonded relationship.
As an older gentleman, Zinger enjoys the simple things in life – food and naps. He frequently curls up on a soft blanket strategically positioned in a ray of sunshine, relaxing the day away. Periodically he'll saunter to the food dish and water fountain for refreshment, kindly alerting his foster parents with head butts and old-man meows if either needs a refill. While he may have been more active in his younger days, Zinger occasionally bats around a toy mouse to demonstrate he still maintains those superior hunting skills. However, his preference is to find a human and curl up on their chest for a siesta, making sure to share a large amount of his beautiful fur. He's adept at stepping on human ribs with his big paws, but you won't get poked because this guy, we discovered, is front-declawed. Additionally, his bloodwork indicated a slight elevation in renal levels, pointing to very early-stage kidney disease, a common issue for seniors. However, a prescription diet will help manage this condition.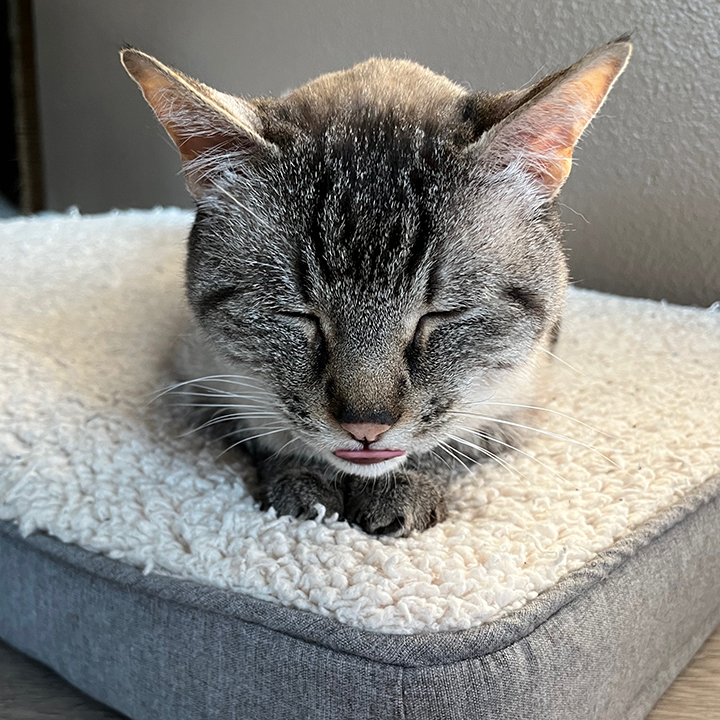 If a pair of adoptable kitties familiar with each other is what you seek, Zenna would be a great addition. While he may appear curmudgeonly, Zinger is a pretty amiable guy but sometimes grumbles to remind the younger kitties that he isn't in a playful mood. He would do well in a home alone or with other older kitties who aren't overly rambunctious. His foster home has no dogs, so his feelings about canines are still unknown. Not everyone seeks a squirrely, bouncy kitten and find seniors more their speed. If you're seeking a handsome lap kitty for a low-key companion, fill out an adoption application for Zinger today!