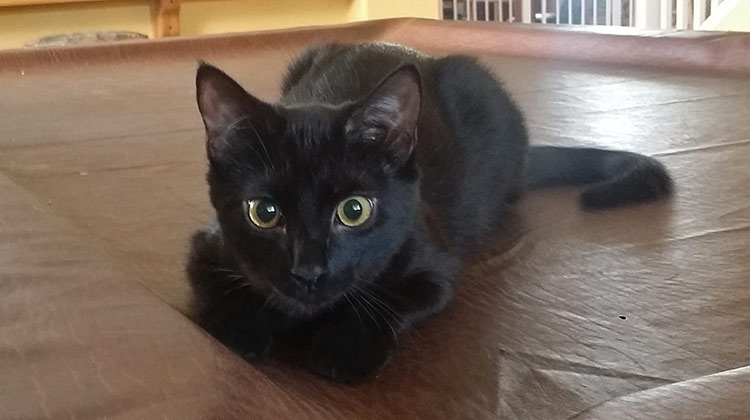 Meet Nicoli, the prince of purrs and cuteness! Nicoli is under a year old and his energy levels show his youthful age. He acrobatically flies through the house playing with anyone and anything that will allow it (even some that don't)! He will be on fly and moth patrol, will keep you entertained with his crazy antics, and will most certainly put all those cat toys that you buy but most cats ignore to good use. Check out his video, he even fetches! One of the most important things to know about Nicoli is just how high energy he is. He will be into EVERYTHING, so be ready. And the squirt bottle doesn't work as a deterrent because he loves water! He will join you in the shower, doing the dishes, and would really like to try his paw at the laundry. With enough patience, he has the perfect personality to learn how to walk on a cat leash. He's adventurous and bold, fearless and trusting.
There's another side to him though, and it's just as important: he CRAVES human affection and needs to be close to his person. For every hour he spends playing, he supplements it with a half-hour of intense snuggling. When I go to bed each night, my kitties take turns vying for my attention; Nicoli is always last because he wants to spend the night cuddled up, not just be adored for a couple minutes. His favorite thing ever is to climb UNDER the covers, snuggle up under your chin, and purr himself to sleep. He likes to give face smooches, even on the lips, and will sometimes give love bites. I've had Nicoli since he was a little bottle baby and sometimes he'll still suckle on my fingers before bed. I can't overstate his sweetness!
Nicoli would do very well in a loud, chaotic household, one of multiple kitties – even dogs! He gets along with everyone who is playful, he's perfectly socialized, though he does tend to be more dominant. He needs to have other kitties around, at least one, and definitely needs people who are committed to tiring him out and giving him all the attention he deserves.
Nicoli has been adopted!