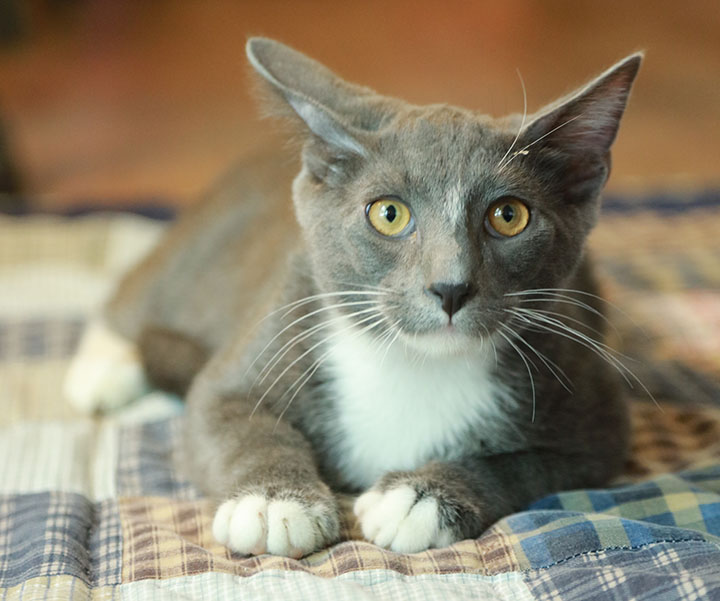 I'm the biggest the  litter, but I'm also the most laid back. Pet me, and I start to purr right away, I love to have my big nose and face rubbed. My momma, Tribble, was an outdoor cat, then she became pregnant in April, 2018, and was rescued right before having myself and my siblings. We all got to grow up indoors, so that means I'm litter box trained and spoiled.
I can be very silly at times, and I love to play with round objects, or things that make noise. If I see a red dot I'll chase until I'm worn out, then I'll chase it some more. I also really love cat nip, I'll roll all over the place if you give me some. I'm a big lovable boy, I can sometimes be a bit clumsy, but I'm also very affectionate, and handsome. I really like to walk around and get petted all over; I've also been known to enjoy a belly rub or two.
I grew up with siblings – Kira Nerys and Benjamin Sisko – and other foster cats, and am very relaxed, so I would likely do well with other cats. I've never met a dog, so I'm not sure how I would feel about living with one. I am playful, but I also really enjoy lounging in a comfortable spot. I love attention and affection, and am very loving in return. I'll relax in your lap if you pick me up, and I come to you for affection if you call me.
Chief O'Brien was adopted December 2, 2018!